Freuen Sie sich auf
Following services are included for 2 people:
2 nights for 2 people in a double room
2 times free participation at the rich breakfast buffet
1 child up to 6 years can stay for free in parents' bed
incl. free use of the fitness and wellness area
incl. free internet (subject to availability)
each 1 ticket "Filmstadt Komplett" for the Bavaria Filmstadt
incl. film city tour, Bullyversum & 4D cinema experience.
The Travelticket is 3 years valid & the tickets are valid until 31.12.2017.
Travelticket & tickets are free on any third parties
and thus also an ideal & quick gift for your sweetheart.

The Travelticket & the tickets will be sent to you after receipt your
money by email to your registered e-mail address as a PDF.

The link to the online booking calendar is available on your Travelticket
and you can book on this immediately upon availability.

The tickets for the Bavaria Filmstadt are valid on all opening days (except 24. & 25.12.).
Kontaktdaten für die Verfügbarkeitsabfrage:
H4 Hotel München Messe ****S (ehemals RAMADA)
Konrad-Zuse-Platz 14
81829 München
Tel.: +49 (0)881 - 92549-33
Email: service@reiseschein.de
Bitte erwähnen Sie dabei
UNBEDINGT
, dass Sie mit einem Reiseschein anreisen möchten!
Verfügbarkeit / Gültigkeit:
Der Reiseschein gilt für den Zeitraum von 36 Monaten. Buchung nach Verfügbarkeit und nur Online einlösbar. Der Reiseschein ist auf jede Person frei übertragbar und immer ein tolles Geschenk. Ein Kauf mehrerer Reisescheine für einen längeren Aufenthalt hintereinander ist erlaubt. Bei hoher Auslastung des Hotels sind zusätzliche Anreisetermine gegen einen geringen Aufpreis buchbar. Der Reiseschein gilt nicht zu Zeiten von Sonder- & Großveranstaltungen (z.B. Oktoberfest).
Die Eintrittskarten gelten nur für die genannten Leistungen und müssen an der Kasse der Bavaria Filmstadt vorgelegt werden. Diese Eintrittskarten sind für den Leistungsbezug an allen Öffnungstagen (außer 24. & 25.12.) der Bavaria Filmstadt und bis 31.12.2018 gültig. Danach müssen die Eintrittskarten neu reaktiviert werden und falls nötig ein Aufschlag auf den dann aktuellen Eintrittspreis gezahlt werden. Die Aufzahlung muss bei der Firma TravelBroker GmbH (www.Reiseschein.de) gemacht werden und dort die Eintrittskarten neu ausgestellt werden. Vergünstigungen (z.B. Rabatte) des Anbieters sowie berechtigte Vergüngstigungen (z.B. freie Begleitperson für Behinderte) können an der Kasse des Anbieters nicht verrechnet werden. Eine Auszahlung des Kaufpreises ist nicht möglich. Die Bavaria Filmstadt behält sich Änderungen des Programms und des Programmablaufs vor. Es bestehen keine Erstattungs- oder Ersatzansprüche, wenn einzelne Attraktionen nicht besichtigt werden können.

Bitte beachten Sie in der Artikelbeschreibung eventuelle Einschränkungen bei den Anreisezeiträumen oder den Verfügbarkeitszeiträumen. Die Reisescheine beziehen sich auf eine variable Verfügbarkeit, es ist möglich dass diese für einen gewünschten Zeitraum ausgebucht ist, auch wenn noch Kapazitäten auf anderen Verkaufsplattformen verfügbar sind. Für die Einlösung & Reservierung beachten Sie bitte immer alle Hinweise auf dem Reiseschein.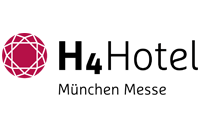 H4 Hotel München Messe ****S (ehemals RAMADA)
Konrad-Zuse-Platz 14
81829 München

Tel.: +49 (0)881 - 92549-33
Email: service@reiseschein.de

Hotelaustattung
WLAN
Restaurant
Bar
Spa & Wellness
Fitness
Parkplatz
24h Rezeption
Fahrstuhl
Haustiere
Gastronomie
Cafe / Bistro
Cafe / Bistro
Hotelausstattung
Internet / WLAN
Internet / WLAN
24h-Rezeption
24h-Rezeption
Safe an der Rezeption
Safe an der Rezeption
Hotelparkplatz
Hotelparkplatz
Haustiere auf Anfrage erlaubt
Haustiere auf Anfrage erlaubt
Shuttleservice
Shuttleservice
Wellness
Wellnessbehandlungen
Wellnessbehandlungen
Beautybehandlungen
Beautybehandlungen
Zimmerausstattung
Nichtraucher Zimmer
Nichtraucher Zimmer
Sitzgelegenheit
Sitzgelegenheit
Internet / WLAN
Internet / WLAN
The Bavaria Film City - home of your movie stars

Filmstadt Complete - all Filmstadt world experience
The Bavaria Film City - home of your movie stars. Experience one of the largest film production sites in Europe, is rotated on a daily basis in the. Experience the emergence of popular movies and series highlights and dive into a fantastic world of almost unlimited possibilities. The offer includes the complete movie town about 90 minute film city tour that 4D adventure cinema and the film-Discoveries Bullyversum. Duration: about 4 hours - the perfect half-day trip you experience all three attractions in the Bavaria Film City

film city tour
Let yourself be captivated by the spectacular film techniques and dare to take a look behind the scenes of real classics and new film productions. You lead your sympathetic Film City Guide of scenery to scenery and explained all the highlights from the German and international film world. A variety interactive stations are waiting for you. 2015 There are two new interactive attractions: a film animation studio, where you tried how film tricks were filmed earlier and a visual effects studio. Visual Effets are generated in the computer images that have become indispensable for cinema and TV films. During the tour you learn how the professionals combine images from the computer with real recordings.

Bullyversum
At 1,500 square meters, the Bavarian Film Studio presents an ultimate outdoor movie Discoveries. Experience magical moments, exciting showpieces and enjoy yourself in many fun shows. Learn also how Michael Bully Herbig conjured great cinema successes of his first ideas. Fun for the whole family - of course! In Bullyversum Everybody can find his favorite place. Whether in the (T) Spaceship Surprise Live rotation, in the Apaches Arena shoot the champagne corks or in the synchronous cabin. Experience the world around Michael Bully Herbig.

4 D cinema experience
Attention pants hold: a brilliant 3D image on the screen, a unique sound system, theater seats that move in sync to the action on the screen, special effects, and a funny animation film goes off the wild ride in Munich's only 4 D cinema experience! New film as of Easter 2016th.
Welcome to the 4*S H4 Hotel München Messe in Munich. (formerly RAMADA)
Very close to the Munich Exhibition Centre is our 2013 built H4 Hotel München Messe - ideal for visitors, but also for all others who visit Munich for business or pleasure. Our hotel is located just steps away from the nearest metro station and thus offers the ideal base to explore the capital of Bavaria - just 15 minutes and you are in the middle of Munich. Explore attractions such as the Frauenkirche, the art gallery or the Viktualienmarkt and return to after a busy day at a leisurely drink in the world famous Hofbräuhaus Munich. 331 stylish rooms and studios equipped with air conditioning, flat screen TV and free Wi-Fi,
Skipped close to it - H4 Hotel München Messe ****S. Do legst di nieda

Catering
Restaurant Max of Bavaria
Princely or Royal better you will be spoiled here from morning to night. Whether Early Bird breakfast for the hurried from 5.00 clock or a dinner to 22.30 clock here is the name of the program. As a special treat, we recommend the Dry Aged Beef, freshly prepared right before your eyes.
XanderBar
The centerpiece of the hotel is open from 8:00 bis 02.00 clock. No way around it and it rejoices with small delicacies, snacks, cocktails and long drinks. Let yourself be seduced by "x-to-the-bar".
Bavarian Stube
Probably no other city is connected to a folk festival. This also next to the Heiteren days can mean there O'zapft is the Bavarian Stube offers a hearty snack of course the popular measure in pitchers. A piece of Bavaria, which tastes especially good.

room
The newly built 4-star H4 Hotel offers 331 stylish rooms including 21 spacious studios and several barrier-free rooms. All rooms are equipped including air conditioning, flat screen TV, telephone, safe, radio, Wi-Fi and a bathroom with shower or bathtub.

Wellness
The H4 Hotel München Messe you can expect a 400 sqm fitness and spa area. Whether for a day's shopping or visit to the fair, here you can enjoy relaxing moments. With jacuzzi, bio and Finnish sauna, the area offers diverse massage and beauty treatments, a complete package for your well-being. The gym also on offer and can be used from 7.00 bis 22.00 clock.

H4 München Messe ****S and his team have the personal and family care before, you to prepare an unforgettable getaway and to whisk you away for a short time from the hustle and bustle of everyday life.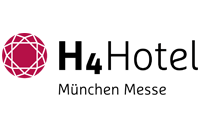 3 days at the 4*S H4 Hotel München Messe & 2 day passes for the Bavaria Filmstadt
36 Monate Gültigkeit
2 Personen
2 Nächte + Frühstück
H4 Hotel München Messe
nur 107,50 € pro Person
Wert: 319,00 €¹
Sie sparen 104,00 €²
Telefonische-Bestellung
Diesen Artikel können Sie auch telefonisch bestellen.