Included Benefits
Hotel Description / Holidaycheck
Location / Area
Shipping / Buy
Watchlist
Included Benefits

The following services are included for 2 people:

2 nights in a double room
Daily participation in the large gourmet breakfast buffet with Front Cooking
On the weekend late breakfast until 12:00
1 bottle of sparkling wine in your room and nible plate
1x VIP limousine transfer to CentrO in Oberhausen (requires registration prior to arrival at the hotel) Centro
shopping experience in Europe's largest shopping and leisure paradise CentrO, CentrO Plan included
Free parking if available
Free Wi-Fi in the hotel
Late check out until 14:00 subject to availability
1 ticket per person for the SEALIFE in Oberhausen
for the calendar year of the purchase date
Contact details for the availability inquiry:
Parkhotel Oberhausen
Teutoburger Strasse 156
46119 Oberhausen
Telefon: +49 (0) 208 6902-0
Email: info@parkhotel-oberhausen.de
Please mention it
ABSOLUTELY
, that you want to travel with a Travelticket!
Availability / Validity:
The Travelticket is valid for the period of 36 months. The redemption is limited to an arrival from Sunday Wednesday all year round, plus weekends in January and February. The extras for a higher category can be requested and paid directly to the hotel. Booking on request and subject to the availability at the hotel. A purchase of several traveltickets for a longer stay behind the other is subject to availability. This Travelticket is not valid during special & major events.
The ticket is valid for benefits at normal opening days and is not valid during special events. The ticket is valid for the mentioned services and must be presented to the cashier of the provider. The ticket is only up to 31.12. the year of purchase valid. The following year, the ticket must be re-activated and if necessary a premium to the then current admission price to be paid. The supplement must be at the company Travel Broker GmbH (www.Reiseschein.de) are made and where the ticket can be reissued. Benefits (eg discounts) of the provider as well as eligible Reduction (such as free companion for the disabled) can not be charged at checkout the provider. A payment of the value is not possible.
The Travelticket is valid for benefits 36 months from date of issue. This Travelticket is not valid during special- & major events. A repayment of this value is not possible, however the credit for booking of other services from the Hotel/Provider until 31.12. of the 3rd year following the date of issue, can be absorbed. Please pay attention in this article description any limitations of the "arrival periods" or the special "availability periods" from the Hotel/Provider . The Traveltickets relate to a limited availability, it is possible that this is fully booked for a desired period, although there is still capacity available on other sales channels.
/ Holidaycheck

SEA LIFE Oberhausen - the experience most aquarium in Germany!

Immerse yourself in the most exciting aquarium in Germany in the exciting world under water. With over 2 million liters of water, it is the largest SEA LIFE in Germany. Admire more than 5,000 sea creatures in 50 beautifully designed pool - seahorses on jellyfish to sharks, rays, clownfish and Asian dwarf otters.

At Sea Life lure since spring new deep sea adventure, because five new aquarium invite you to experience an interactive: octopus and octopus - distant relatives of the World Cup oracle Paul - are drawn into the attraction. In addition to a stump thorn Sepia and a so-called ordinary octopus among others, a Pacific Giant Octopus, one of the largest of its kind, and cephalopods such as the Wunderpus found in octopus cave their new home and delight young and old. Because the octopuses are intelligent and trainable animals are very curious despite her shyness. In addition, the master of camouflage color of their skin - and even their skin structure - adapted to the respective underground or imitate other animals do. The mollusks have three hearts and eight arms and are therefore absolutely unique even in the exciting and legendary deep sea.
Bild-Copyright: SEA LIFE Oberhausen
Welcome to the 4*S Park Hotel Oberhausen.
Our Parkhotel Oberhausen is conveniently located, just 1200 meters from the motorway A 516, located directly on a forest and sports area. Free, partially covered hotel - parking is provided directly at our site
.
All our 98 rooms are equipped with bath or shower / WC, satellite and Sky Sport-TV, minibar, hairdryer, telephone with integrated voice mail and free wireless lan. From the comfort category our rooms also have coffee - and tea making facilities, air conditioning and safe

With us you leisurely breakfast with friends and enjoy the high quality gourmet buffet with salmon, champagne, coffee specialties. In the evening, the room with matching decorations transformed to their common room for weddings, birthdays, anniversaries.
Our Restaurant "Zur Bockmühle" offers a creative freshness product cuisine, which is complemented by a selection of exquisite wines. Currently and according to the season, we present selected delicacies. The banquet rooms invite up to 100 people for this great celebration. Take a look at our menu -. And buffet suggestions and our all-inclusive wedding package

In our cozy Bierstube pub Schotte You can review the day after a hard and busy day with delicacies and a draft beer. 5 bowling alleys available to our guests - subject to availability - against a small fee also available
.
The 4 * S Parkhotel Oberhausen and his team in front by the personal and family care, help you prepare a memorable getaway and you whisking you away from the stress of everyday life.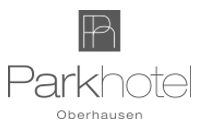 Parkhotel Oberhausen
Teutoburger Strasse 156
46119 Oberhausen

Telefon: +49 (0) 208 6902-0
Email: info@parkhotel-oberhausen.de


Lage / Umgebung
Versand / Kauf
Shipping
1. We send you free of charge by eMail your Travelticket on the day of receipt your payment (weekdays for business hours). You can print the Travelticket at home for you.

2. We ship the Travelticket if needed via Post mail for 2,00 EUR (incl. VAT) processing fee and postage. We print your Travelticket in best color laser quality and send it to you.

The Travelticket is an ideal gift, because it does not have a name or the purchase price.
Without value and name details!

The fastest way to get your Travelticket is to pay with Paypal (www.Paypal.de)
Purchase
You will receive an email after purchasing the entire purchase process and our bank details if you wish to transfer.

Important! Payments can be processed only if you specify the order number of your order!

All other data such as the use of the Travelticket, booking room or extension of the arrangement by booking additional nights, full board, discount for children or other offers, you can immediately upon receipt of the Travelticket directly check with the seller personally and quickly. In the Travelticket that comes to you via email, you will find this information about the seller.

The booking of payments will be held only on weekdays. The Travelticket will be sent to you within hours via email to print it. If you require a particularly fast and urgent delivery of your Travelticket, call us during our business hours at the above telephone hotline (Note: We receipt your money!).

Therefore we recommend you always PayPal as the fastest method of payment.


Watch list
Please log in to use the function of the Watch list.
This could be also interesting for you:
Last viewed